Sweet face care thanks to Ghasel. Ghasel Maltese Honey Face Moisturiser
Sweet face care thanks to Ghasel. Ghasel Maltese Honey Face Moisturiser
Maltese brand Ghasel has created something special for you. It's a sweet face care for day and night use designed for those who need a solid portion of hydration.
Ghasel cosmetics:
moisturize and nourish the skin intensely,
have a biostimulating effect,
beautify and improve the skin's condition,
smooth out wrinkles and furrows,
eliminate any imperfections,
bring comfort to irritated areas,
have anti-aging properties.
Maltese Honey Face Moisturiser is a bestseller in natural, honey care. Ghasel used high-quality, sweetest Maltese honey in the world that shows strong nourishing and hydrating qualities.
It's a cream perfect for any skin type regardless of the age, because it adapts to it exceptionally well. You need to remember that moisturizing your skin is the absolute foundation of every skin care. Ghasel face cream is an unbelievable dose of hydration for 24 hours a day. It's wonderful for morning and for the evening. With each day of using this cosmetic you can increase your skin's defensive and regenerative capabilities. Smog, toxins, UV radiation, environmental pollution, free radicals or oxidative stress will no longer harm your skin.
No artificial dyes, preservatives and GMOs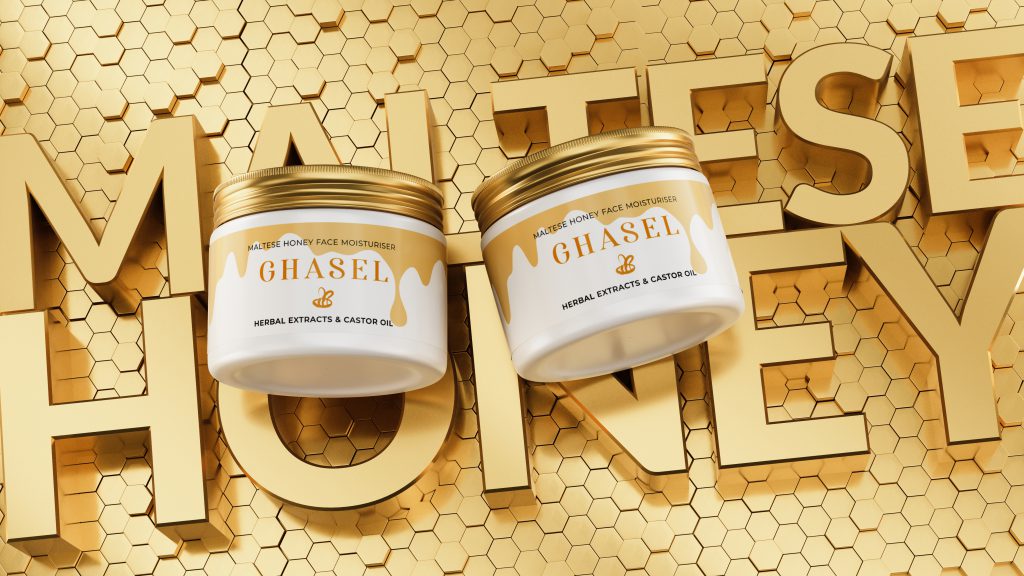 You won't find any ingredient that isn't absolutely essential. It's a combination of carefully selected substances that are liable for taking care of your skin in every way possible.
Maltese honey: deeply hydrates all skin layers, giving the skin a powerful dose of nourishment for a long time. Let yourself feel a wave of calmness for 24 hours. Honey straight from Malta looks after a young, radiant appearance, has an antibacterial effect and works well in the care of problematic, acne-prone and allergy-prone skin.
Shea butter: known for its hydrating and nourishing properties, it has been used as a cosmetic ingredient for ages. It's perfect for the skin on the face as it has anti-inflammatory properties. It soothes irritation, reduces swelling and regenerates epidermis.
Caffeine: has antioxidant properties, supports the skin's natural protective barrier. It also acts as a shield against UV radiation, reducing the risk of ski cancer. It's really effective when trying to reduce the appearance of wrinkles and furrows and it stimulates the blood flow, giving the skin a soft, natural glow.
Castor oil: it's famous for antibacterial, anti-inflammatory and highly hydrating abilities. It has a great influence on reducing acne lesions, commonly used for cleansing the skin. It eliminates discoloration and prevents the formation of skin lesions. It has antiseptic effect and it inhibits the development of bacteria.
Plant extracts: valuable active ingredients of the product. They slow down the aging process, it's responsible for maintaining a proper hydration level as well as neutralize free radicals. They also work well in eliminating blemishes, calms irritation and helps to even out the skin tone and restore the skin's elasticity.
Vitamin E: a strong antioxidant that combats free radicals and oxidative stress. It counteracts wrinkle formation and prevents epidermal lipid degradation. It's a youth elixir that evens out the skin tone.
Wyświetl ten post na Instagramie
Learn more about the product: www.ghasel.mt.
---