Anti-Redness Face Serum from Nanoil: Do Away With Skin Irritation Once & For All!
Rosacea-prone skin is usually linked to genetic predisposition but our daily skin care can either make it much better or, the other way round, worsen its condition. If you want to part with spider veins and redness for good, you must try Nanoil serum made specially for treating broken capillaries and sensitive skin.
Rosacea-prone skin appears through redness, visible veins on the face and super-sensitivity to all kinds of external factors. Merely having a spicy soup may worsen its condition instantly. That is why owners of such touchy skin keep looking for a product that will improve their skin, bringing immediate relief. We suggest trying Nanoil serum, popular among cosmetologists, dermatologists and women all over the world.
Who should definitely consider getting this serum?
Despite being made particularly for rosacea-prone skin, it is also a great choice for sensitive, mature or acne skin. Nanoil Anti-Redness Serum brings relief to any skin suffering from irritation or redness so it's good to keep it in a beauty bag. It's also safe to use regardless of your age.
What effect does it have on irritated skin?
It soothes the skin in a jiffy. Excellent components take credit for that of course. Linden extract brings instant relief and softness. Another ingredient – cypress cone extract – reduces inflammation and prevents further infections. Buckeye extract, on the other hand, penetrates the surficial layer of skin to seal the blood vessels, lowering the risk of broken capillaries. An extract from Boerhavia Diffusa root is amazing for protecting skin against external aggressors. Biosaccharide gum-1 is a super-important ingredient which aims to moisturize the complexion and alleviate inflamed skin.
As you can see, those ingredients make a perfect match, improving our skin both inside and on the outside. Getting rid of skin irritation once and for all is the result.
How to use Nanoil Anti-Redness Serum?
This serum can be used morning or evening, even twice a day. Because it is free of any photosensitizing ingredients, it can be used in every season of the year, no matter the temperature. Here's how to do it exactly:
Clean your face using a gel, foam or soap.
Use a toner to help actives penetrate the skin.
Wait until the skin is dry for better absorption.
Apply the serum: 3-4 drops directly on the face, next smooth it evenly with your fingertips.
Apply a moisturizer: when the skin soaks it up (after a few minutes), follow with a moisturizer to lock water and actives from the serum in the skin.
To remember:
Try not to skip the skin on the neck and chest – it is even thinner than the skin on the face so it needs enhancement provided by good products as well.
How long does it take the serum to produce effects?
Relief and soothing of irritated skin are instant but there's more to the benefits! Nanoil Anti-Redness Face Serum:
acts as a potent antioxidant to delay skin aging
improves the skin tone and reduces visibility of spider veins and red patches
makes reactive skin less sensitive
protects no matter the conditions
keeps skin moisturized and prevents dryness
These effects take slightly longer to appear but we believe they're worth waiting for. If you apply Nanoil serum every day, you're going to do away with skin irritation once and for all, getting a healthier and prettier face!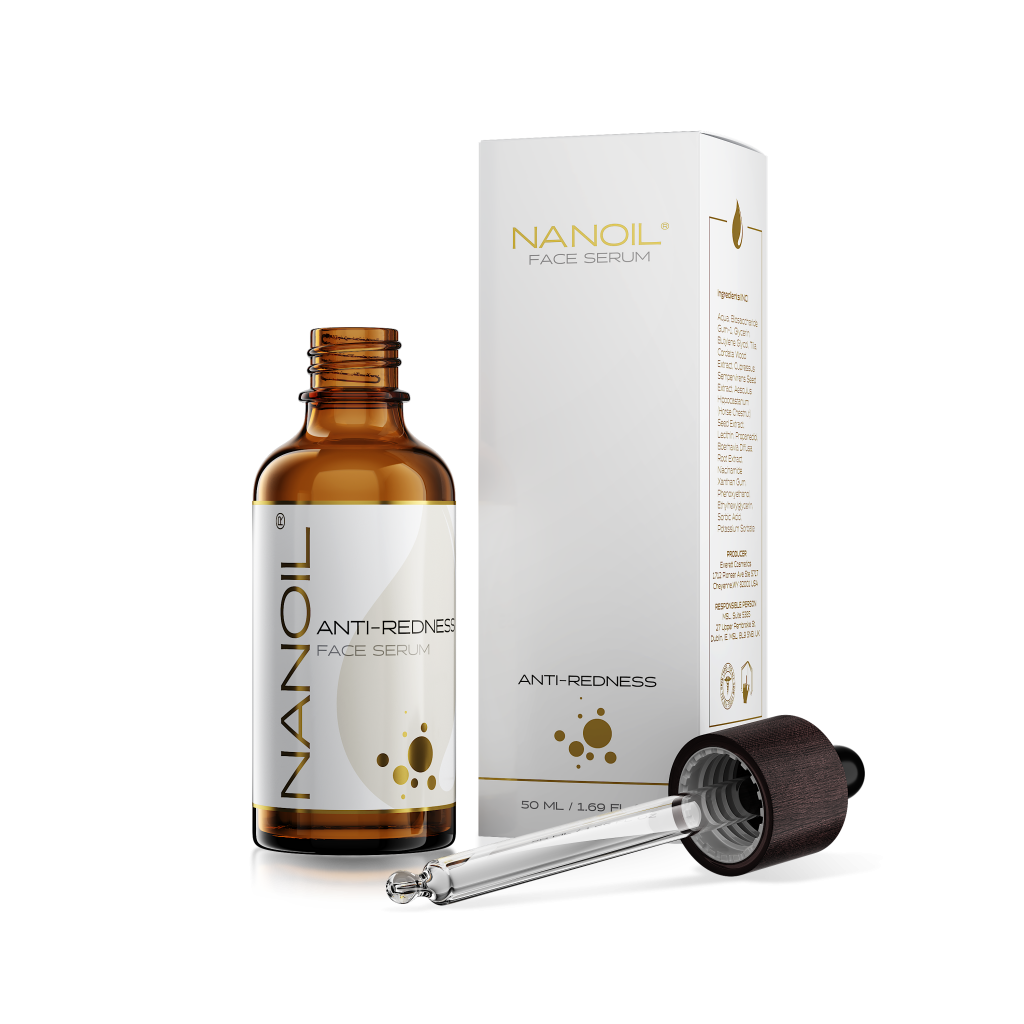 Where to buy it?
You can read more on Nanoil serum or place an order at the brand's official store on www.nanoil.us. Just hurry up because it's growing in popularity and sells out fast.