RANKING Face Serums for Couperose, Sensitive & Redness-Prone Complexions
Day-to-day beauty routine of skin that reacts with redness to most regular care products is pretty problematic. Things get even worse after realizing that redness isn't the only side effect you should bother about. In most cases such skin type shows broken capillaries and feels tight. How can you make such skin feel relaxed and help it clear up? Use one of the top-rated face serums designed for couperose and reactive skin.
Every single skin type needs to be replenished with water on a regular basis. That's the core of the right skincare. You should also make good use of nutrients such as vitamins, minerals and lipids. The latter plays a very important role, preventing water from evaporating from skin, thus steering you clear of dryness. In most cases this suffices to keep skin healthy and even-toned, especially when you provide protection from the sunlight and urban pollution. Once you do this, your skin will look youthful and impeccable, unless it's couperose skin.
Beauty routine for couperose skin
One of the most characteristic features of couperose skin is its high sensitivity to almost anything it becomes in contact with. It reacts with redness and irritation when you expose it to the strong sunlight, high or low temperatures, urban pollution, stress or when you eat spicy food or drink alcohol. That is why using the right skincare is so important. How can you do this?
Basically, you need to find face creams and serums formulated with ingredients targeting common couperose skin concerns, but that's not all. All skincare products you want to put on this hyper-reactive skin of yours must be enriched with soothing substances to bring immediate relief to tight, burning and reddened skin. In general, the treatments and cosmetics you choose should be:
gentle on the skin because there are many ingredients that trigger irritation.
natural, meaning that they should be formulated with plant-derived substances.
efficacious, working from the inside of the skin, targeting the source of the problem.
fast because nobody has the time to wait for the results.
Indeed, this is a difficult task, that's why you should find an ally that will help you balance couperose skin. Face serum can be your ally.
Which serum should you pick for couperose skin?
Your next face serum must be suitable for hyper-reactive and redness-prone skin that shows spider veins and often burns. A lightweight formula that skin absorbs in no time is also important. In other words, you must be sure that the serum you want to put on your face won't clog pores or leave it greasy. Finally, the formula itself is crucial – look for natural compositions enriched with plant extracts that strengthen the walls of capillaries and reduce inflammation. It's also a good thing if your next face serum contains no alcohol, no parabens, etc.
Those of you who don't have the time to look for the right products, can make use of the ranking of the top-rated serums designed to combat all problems that couperose skin may possibly have. Below you will find the cosmetics that aid in taking care of couperose and easily irritated skin.
NANOIL ANTI-REDNESS FACE SERUM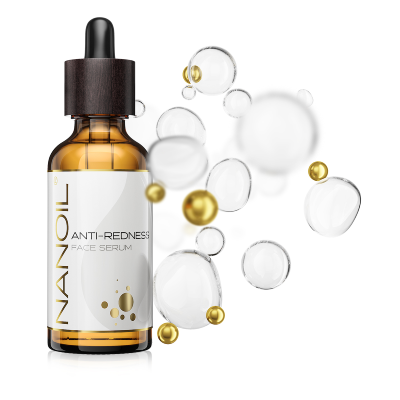 Currently this is the best serum designed for couperose skin. It has a lightweight, water-based formula and smells really nice. It does its magic the moment it's applied to the skin, dealing with skin irritation, minimizing redness and calming down uneasy skin. This anti-redness serum contains chestnut extract for stronger and flexible blood vessels, as well as a blend of three other plant extracts obtained from Punarnava, linden wood and cypress cones. That's an irreplaceable face serum, perfect for problematic skin types, which couperose skin clearly is. It brings relief and improves skin's appearance from the first use. You don't have to wait long to see the results if you use Nanoil Anti-Redness serum consistently, every evening.
For more information visit – www.nanoil.us
EXUVIANCE ANTIREDNESS CALMING SERUM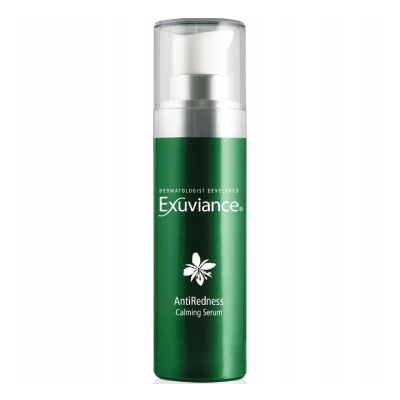 Another interesting offering is launched in a much more expensive and a slightly smaller bottle – Antiredness Calming Serum. It's an efficacious face serum for sensitive skin brought out by Exuviance. It contains a blend of plant-derived ingredients, including for example horse chestnut extract, sea algae, white tea and licorice. These substances are teamed with caffeine, peptides and zinc. Such a formula gives really impressive results by reducing inflammation and strengthening the weak walls of blood vessels. The serum minimizes facial redness and improves skin's resilience. To see these effects, you have to wait a little bit because the chance of them appearing overnight is pretty low. Patience pays off.
BE THE SKY GIRL KEEP CALM SERUM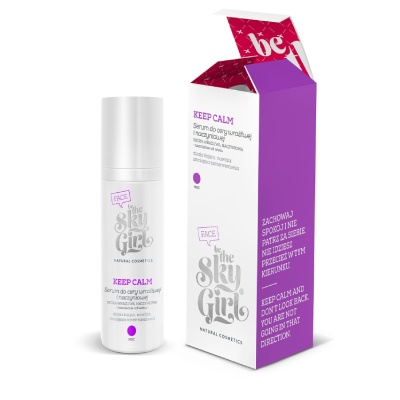 If you're interested in mid-range skincare products, check Be The Sky Girl serum for sensitive and couperose skin. Despite being relatively easy on the pocket, its results are pretty impressive. However, there is one condition – you have to apply it regularly, at bedtime and follow it with a cream that belongs to the same cosmetic line. This is another formula rich in plant-based substances: horse chestnut, grapevine, arnica, St. John's wort, ivy, witch hazel and symphytum. The composition is also enriched with hyaluronic acid, so you can expect it to hydrate your skin. Just like other serums included in this list, Keep Calm Serum soothes, refines skin's texture and promotes flawless appearance.
MEDIK8 CALMWISE SERUM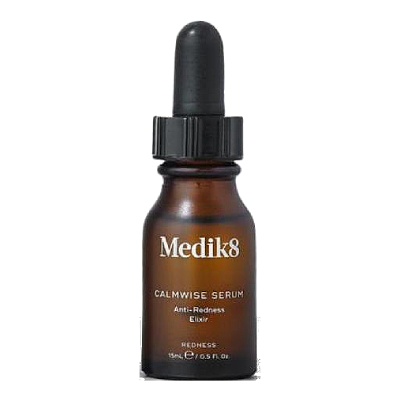 And here is another face serum dedicated to couperose, easily irritated and acne-prone skin. This is a truly interesting offering for those who are looking for a product that will deliver promised results, being at the same time gentle on the skin and far from triggering a reaction. This face serum contains 7 soothing substances such as jojoba oil, sage extract and vitamin E. On the other hand, Calmwise Serum formula also includes silicones which aren't suitable for every skin type, that's why we suggest running a patch test before introducing this serum to the daily regimen. Once you decide it works for you, the serum will make your skin more elastic, smooth and even-toned. It will also deal with redness, irritation and other imperfections.
NOREL SENSITIVE FACIAL SERUM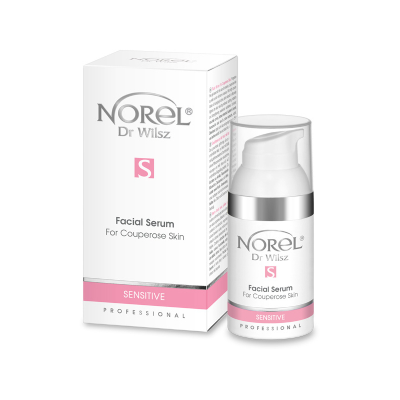 This is a gel face serum dedicated to couperose skin that shows the symptoms of rosacea. This cosmetic works where the skin is irritated, reddened and burning. It banishes inflammation and tries to clear rosacea. It even deals with puffiness caused by the problems with weak capillaries. Clearly, this isn't the most expensive face serum on that list, but it's surely able to satisfy the needs of those whose skin doesn't require much. To see the effects, apply Norel Sensitive Facial Serum prior to the cream, every day.
MURAD SENSITIVE SKIN SOOTHING SERUM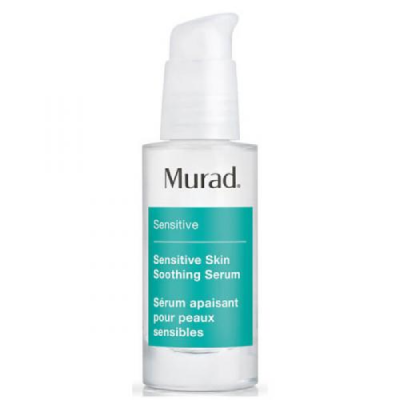 Relief and balance for reactive skin have been also closed in Murad Sensitive face serum. This is a lightweight formula able to leave skin hydrated, even-toned and calmer. Facial redness vanishes thanks to chamomile and arnica extracts. Hyaluronic acid handles and maintains hydration. Even though it's one of the more expensive serums, it offers an interesting solution for couperose skin. There is just one thing concerning application to remember. You can use Sensitive Skin Soothing Serum twice a day, but if you do it in the morning, always follow with a cream with SPF to avoid sun spots.