We Choose TOP 4 Castor Oils that Bring the Best Beauty Benefits
A good hair or face-care oil is the one which really works. This seems a little but it's a lot! Castor oil fulfils this condition. Even though it's slightly forgotten, it seems to be growing in popularity thanks to the wonderful effects and multiple uses. See which castor oils work best and what benefits you can hope for when using one on a daily basis!
Are you seeking a natural oil which gives great results and is easy on the pocket? You're in the right place because castor oil gives the best effects for a very good price. It is a strong competition for best-selling oils such as argan, almond or jojoba oil. It's good to know it better because a budget castor oil may prove the best remedy for many beauty gripes. Today's post gives you the list of top 4 castor oils as well all properties of castor oil and tips to use it in your daily beauty routine.
What effect does castor oil produce?
It is a perfect hydration booster.
It helps eliminate acne and dandruff.
It speeds up growth of hair, lashes, and brows.
It has antibacterial and cleansing effects.
It soothes irritations and itchiness.
It strengthens, nourishes, and boosts shine.
Let's go through the benefits because they're really worth noting. Above all else, castor oil is famous for the amazing cleansing properties and therefore it effortlessly removes make-up products, killing bacteria and detoxifying the skin at the same time. Additionally, it strengthens the hydro-lipid layer acting as a natural agent keeping the skin moisturized. Castor oil is loved by so many people because it effectively stimulates faster growth of hair and thickens the lashes. It does it naturally through strengthening the hair follicles and preventing the hair from falling out in excess. On top of that, castor oil is known for helping treat skin conditions, e.g. acne or dandruff, as well as their early symptoms like oily T-zone.
Castor oil in your beauty routine
How can you use castor bean oil during the daily beauty routine to experience its amazing effect on the skin and hair? We share a couple of ideas for making the most of your castor oil easily!
Hair growth oil: rubbing castor oil into the scalp before every washing is a simple and truly effective way to stimulate faster growth, thicken the hair, and make it stronger, shinier, and full of volume within just a few weeks.
Natural eyelash and eyebrow serum: even though castor oil is naturally thick, it's good to use it for strengthening delicate lash and brow hair (use a clean mascara brush) because regular application makes them grow faster and thickens them.
Nail-strengthening oil: castor oil has a similar strengthening effect on the nails so it's good to rub it into the damaged, brittle nails and dry cuticles regularly to make them stronger and nicer within only several days.
Make-up removing oil: using castor oil as a natural make-up remover is a good way to make the most of its cleansing effect; it thoroughly cleans the skin, detoxifies the complexion, as well as conditions the skin, improves the level of moisture and eliminates problems like acne.
The 4 Best Castor Oils
See the products that perfectly fulfil the roles we've just described. The best beauty castor oils that have the highest quality, guaranteeing the best beauty benefits.
No 1. NANOIL CASTOR OIL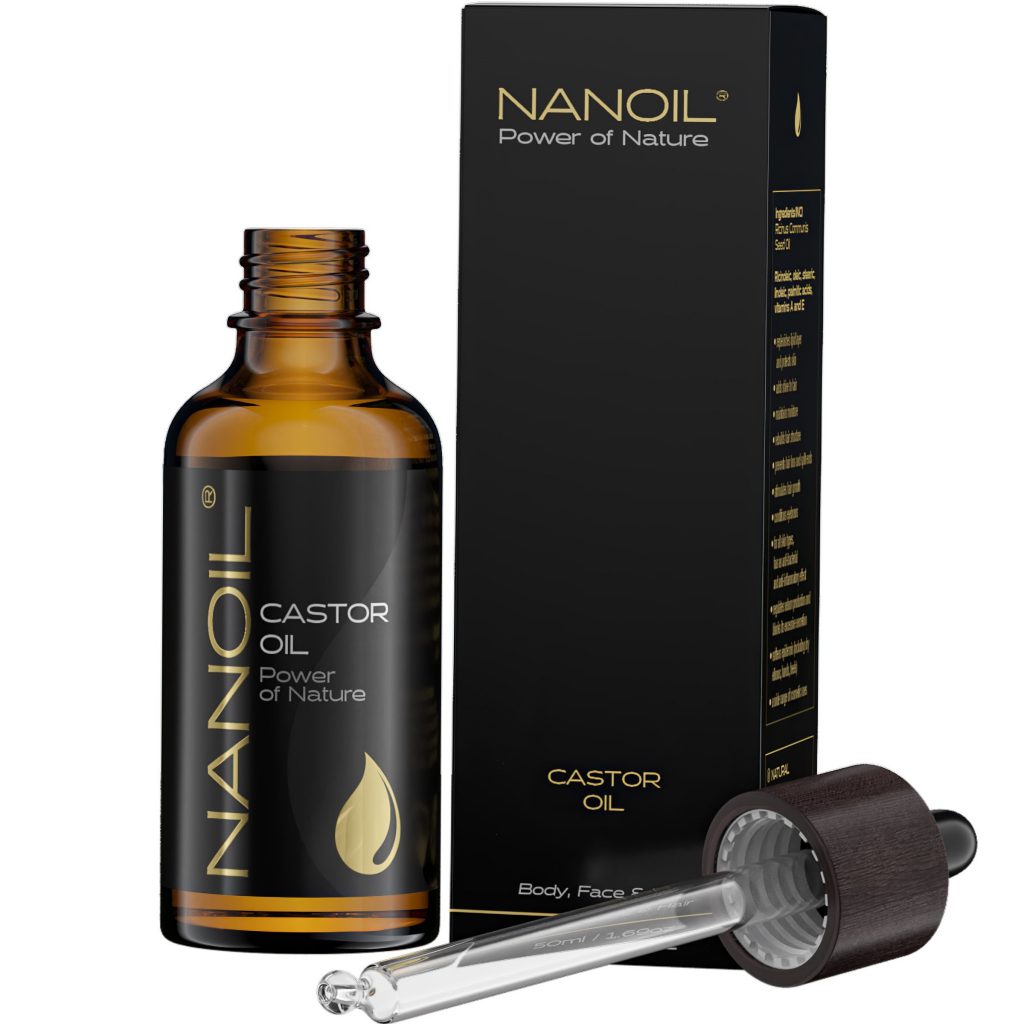 Nanoil Castor Oil is the reviewers' favorite as far as natural castor oils go. It is loved for the lightweight texture – not as thick as other oils. It is cold-pressed and unrefined, so it gives the best effects. The quality of this 100% organic and vegan formula is certified by Ecocert. This oil works ideally when you need intensive enhancement: it promotes faster hair growth, thickens lashes and brows, prevents hair loss, cares for the beard and moustache, strengthens brittle nails, soothes symptoms of acne, and helps get a flawless complexion. Use it either solo or mix it with other natural oils from Nanoil offered at www.nanoil.us.
Size: 50 ml
No 2. EARTH TO YOU CASTOR OIL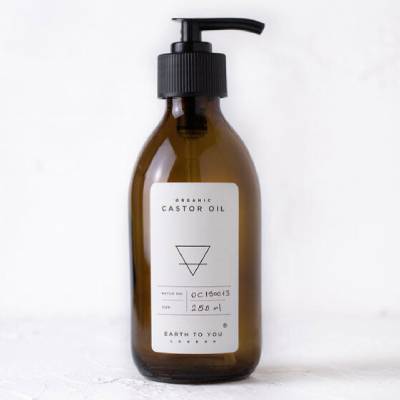 This is one of the best and one of the most expensive castor oils. Earth to You Castor Oil is organic and cold-pressed so you can use it to tackle many beauty problems worry-free. It encourages faster growth of lashes and brows, and using it as a conditioner is easier with an extra applicator. The product is formulated without any synthetics. It's pure oil extracted from castor plants grown in India. Apart from the high price, it has another flaw which is thickness and earthy smell which doesn't appeal to some reviewers. Still, it may be worth trying if you're searching for good castor oil.
Size: 100 ml
No 3. BRIOGEO CASTOR OIL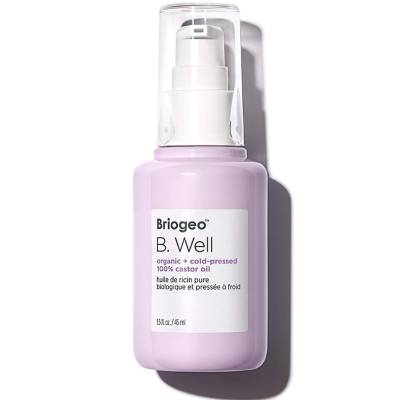 Another product may be a good pick for those who look for good castor oil which looks nice at the same time. Briogeo B. Well Castor Oil comes in a pink bottle and doesn't look like other castor oils on the market but inside you can find well-known castor oil, organic and cold-pressed from the castor beans. It can be used both on the hair and skin, is colorless and not very greasy so it won't leave a greasy feel on the skin or hair. At the same time, this is one of the priciest castor beauty oils we present here.
Size: 45 ml
No 4. SATIN NATUREL CASTOR OIL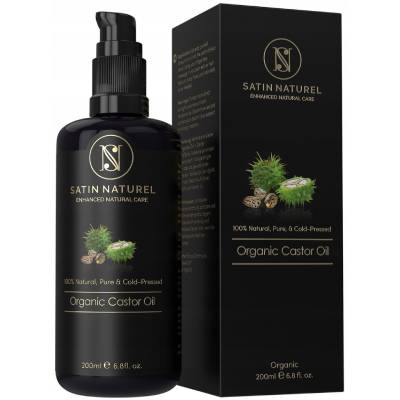 The list of top 4 castor oils is completed by Satin Naturel Castor Oil which comes in the biggest bottle. The packaging looks very nice and should appeal to the hardest-to-please customers. Still, what's inside is crucial: eco-friendly, organic, unrefined, cold-pressed oil. The manufacturer recommends using it on the dry, problematic complexions and thinning hair. This product is very thick and must be mixed with other oils or water. Nevertheless, Satin Naturel Castor Oil is one of the best options if you want to make the most of castor bean oil.
Size: 200 ml