Condition Your Skin With Ghasel Maltese Honey Body Cream
Ghasel Body Cream, based on natural honey and Shea butter, cares for your skin comprehensively. This product, designed for very dry skin, deeply regenerates, nourishes and soothes the skin. The best natural ingredients have positive effects on the condition and appearance of the skin. Ghasel Maltese Honey Body Cream ensures you can forget about irritation, redness and dry skin. It can also reduce cellulite and stretch marks. Your skin gains a healthy glow and velvety softness.
Discover the highly moisturizing Ghasel Maltese Honey Body Cream full of natural ingredients
Ghasel Body Cream, rich in vitamins, minerals and active ingredients, regenerates damaged skin, evens out skin tone and restores suppleness. The natural formula provides the skin with a daily dose of important micro and macro elements. The top-quality Maltese honey effectively exfoliates and smooths the skin. The high concentration of vitamin C evens skin tone, leaving it radiant and free of imperfections. The anti-inflammatory and antibacterial properties of honey soothe inflammation, irritation and even sunburn. It's safe for all skin problems (eczema, AD or acne).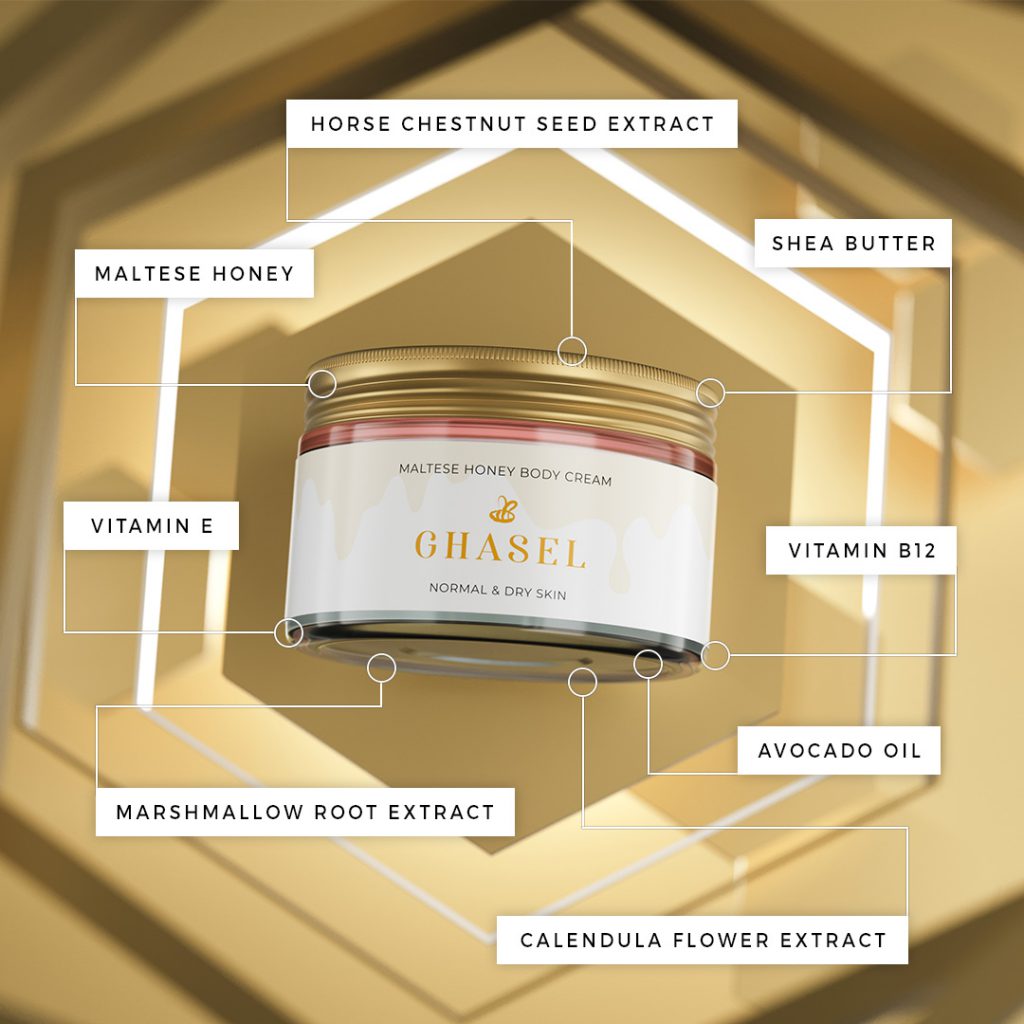 Moisturizing Shea butter brings relief to tight and dry skin. It adds suppleness and protects the skin from environmental factors like extreme temperatures. Avocado oil lubricates and penetrates the deep layers of the skin to provide your skin with EFAs (essential fatty acids) The antioxidant vitamins A and E and amino acids stimulate the production of collagen and elastin. The strong antioxidant properties of calendula neutralise the harmful effects of free radicals that speed up skin aging.
Ghasel Maltese Honey Body Cream – who is it for?
Ghasel Body Cream is recommended mainly for dry, sensitive and mature skin. Its non-greasy and light texture makes it equally suitable for oily and combination skin. Remember that all skin needs hydration – regardless of its type. Moisturizing is the key to maintaining a good condition of your skin for longer without losing suppleness, blemishes and dull skin tone.
Ghasel Maltese Honey Body Cream – INCI ingredients
Aqua, Butyrospermum Parkii Butter Extract, Honey, Cetearyl Alcohol, Glycerin, Persea Gratissima Fruit Extract, Stearic Acid, Propylene Glycol, Palmitic Acid, Cetearyl Glucoside, Parfum, Myristic Acid, Althaea Officinalis Root Extract, Calendula Officinalis Flower Extract, Aesculus Hippocastanum Seed Extract, Maltodextrin, Glucose, Cyanocobalamin, Tocopheryl Acetate
It's free of preservatives, parabens, GMOs, silicones and dyes.
More information can be found on the official website – ghasel.mt