Fast & Safe Heat Styling: See the Most Recommended Heat Protection Sprays
Women like arranging their hair in cure-looking styles, making use of all the styling tools that are at their disposal. The ones giving off heat seem to be the best, in terms of creating long-lasting styles, of course. Which they aren't good at, however, is keeping the strands safe and moisturized. Sadly, when exposed to the high temperatures, hair loses moisture, which inevitably leads to brittleness, splitting and dullness. Therefore, providing the strands with strong heat protection is vital.
Thermal styling and its effect on the hair
In plain words, thermal styling involves the use of a wide array of hot tools in order to give the hair the desired look and shape. Those tools include a flatiron that makes hair sleek, a curling iron, curling tongs and hot rollers that turn the straight hair into locks or waves, as well as a hairdryer that speeds up drying time and helps create blowouts. Each of these treatments is known for causing damage to the hair, which in extreme cases is beyond repair.
Blow-drying and straightening kick water off the strands. The bad news is that the temperature doesn't need to be extremely high to deprive the hair of moisture. The research shows that the temperatures reaching 140 degrees Fahrenheit or 60 degrees Celsius are already very disastrous for the tresses.
The heat generated by styling tools causes the keratin cuticles to rise, which opens the way for the moisture to evaporate from the strands. Additionally, high temperatures distort and break down keratin fibers. Those two downsides of heat styling make hair frazzled, lifeless and dull. To prevent high temps from messing up with your strands, always provide them with a strong heat protection.
How to create heat protection on hair
If you are wondering whether creating heat protection around your hair is difficult or time-consuming, then it is not. To make this process the quickest possible, reach for a spray heat protectant and apply it every time you want to use a hot tool. Most products of this type can be put on damp or dry hair.
It's worth realizing that a good quality heat protection spray offers more than just increasing hair resistance to extreme temperatures. Enriched with nutrients, such products can also leave you with better-looking strands and make them easier to manage. This means that a heat protectant may speed up hair styling.
Most Recommended Heat Protection Sprays
1. Nanoil Heat Protection Spray | The best spray for thermal styling |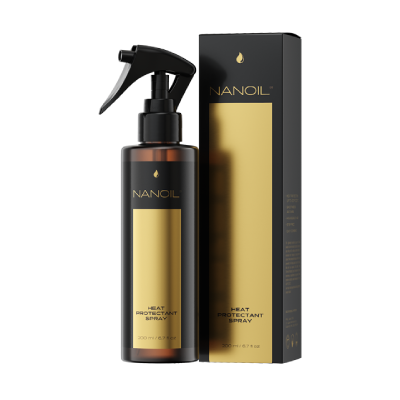 On the very top, there is a bloggers and hair stylists' fave heat protectant launched by Nanoil. Available on nanoil.us, Nanoil Heat Protection Spray creates a protective shield around the hair, keeping it from the negative effects of heat styling. Rich in nutrients, the product improves the appearance of the hair by boosting shine and volume. Unruly wisps are controlled better and the strands become easily manageable. These effects are owed to the formula that includes silk proteins that repair damage and smooth out the cuticles; polyquaternium-46 combats frizz, leaves hair softer and detangled. This substance plays the key role in isolating the strands from the high temperatures and locking moisture inside the hair. When coated with Nanoil Heat Protection Spray, hair resists temperatures reaching up to 440F/220C. You can apply it on both towel-dried and dry hair. Excellent choice!
2. Fanola Keraterm Hair Ritual Spray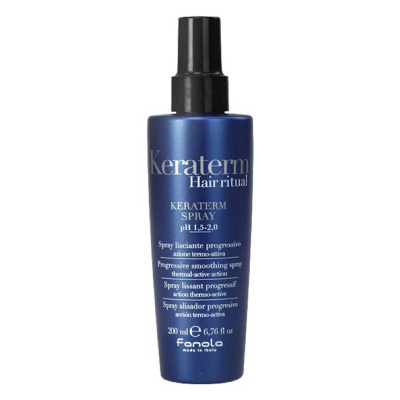 This beauty product is brought out by a world-famous cosmetic brand and is said to be a perfect choice for those who expose their hair to the in-salon keratin treatment. Fanola Keraterm Hair Ritual Spray is formulated with keratin, shea butter and macadamia oil – all known for having a positive effect on hair. Apart from keeping steads safe from heat damage, this product also promotes smoothness and softness. Another positive thing about this heat protectant is the fact that it doesn't deprive a style of volume. Neither does it create a stiff finish. This SLS-free formula forms a protective coating on the hair, considerably speeding up the drying time. There is one small minus to mention, though – Fanola Keraterm Hair Ritual Spray appears to be pretty hard to find in regular drugstores.
3. INSIGHT Intech Heat Protection Shield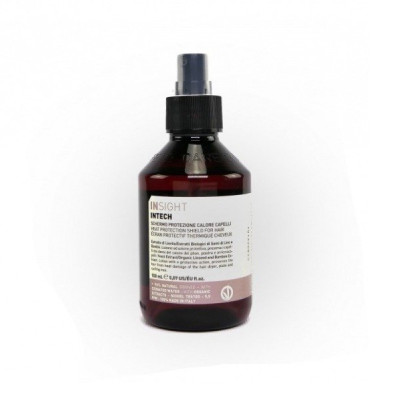 This brown-bottle spray by INSIGHT is another top-rated product designed to prevent hair from the side effects of heat styling. Its list of ingredients is pretty impressive. It contains yeast extract that is rich in vitamins, minerals and biotin – all known for having a beneficial effect on the hair. Another ingredient is a flax seed extract that delivers moisture and increases hair resistance to all types of damage. Bamboo extract fills in the cracks in the outermost hair layers, protects from damage, intensifies the hair color and adds more shine. Together, the ingredients make strands more elastic and easier to style. Even though some users consider INSIGHT Intech Heat Protection Shield pricey, it does its job really well.
4. Kérastase Genesis Defense Thermique Treatment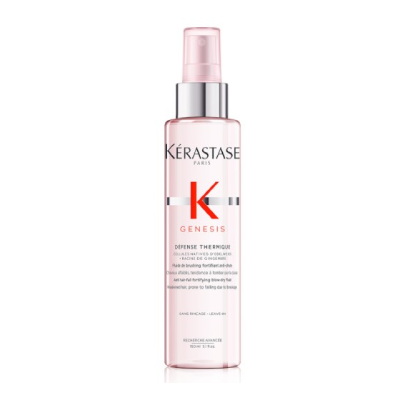 Here is another top product offered by a world-known hair cosmetic brand. Unlike the other products included in this list, Kérastase Genesis Defense Thermique Treatment has a form of a milk, but it doesn't mean that it weighs hair down. When used prior to heat styling, this product conditions hair, prevents thinning and minimizes the risk of brittleness. It also combats frizz and static, meaning that it gives you more control over your wisps. The formula contains coconut oil, ginger root extract and alpinum callus extract that promote sleek hair that becomes resistant to high temperatures. The producer claims that Genesis Defense Thermique Treatment is able to defend the hair from 440F/220C. Best results are achieved when the heat protectant is used together with other products that belong to the Defense Thermique series.
5. Philip B Thermal Protection Spray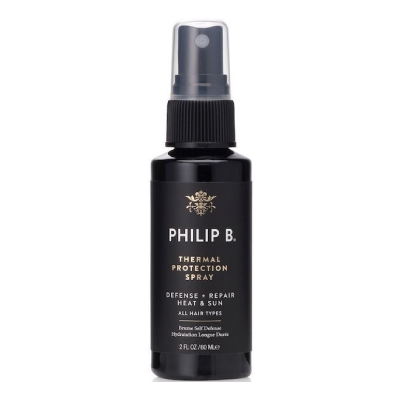 Even though Philip B Thermal Protection Spray takes the last place, it doesn't mean that it works any worse than the other products listed above. What makes this heat protectant different from the rest is the fact that it's designed for professional use. It costs a pretty penny, but luckily it is also available in a travel size, which obviously is way cheaper than the regular size. This lightweight spray has a lovely aroma that lingers on the hair for long hours. Formulated with mongongo oil, vitamin E and sweet almond oil, Philip B Thermal Protection Spray makes hair softer, prevents splitting and reverses damage caused by hot styling tools. Apart from keeping hair safe from heat damage, it also extends the lifespan of color treatment.