Nanoil – the best hair oil
Natural oils? Why would they regenerate my hair? They are definitely too subtle and provide only slight effects… I need something stronger, something created in a lab….something that will be a remedy for my hair…
If you also consider things this way, it is the time to enlighten you: chemical and artificial products do not work.
There is no stronger and more effectively regenerating substance than the natural oil. If we assume that nature is a one big, factory, then vegetable oils are by far the strongest, most effective substances it has ever created.
Why are natural oils so important?
Oils are cold-pressed form the seeds of fruit and flowers coming from the cleanest, most fertile regions of the Earth. You need to know that the tiny seeds and pits are the source of minerals, vitamins and fatty acids of the greatest power. No one doubts the power of seeds, kernels and stones that need to be able to grow a plant or fruit. Their huge, life-giving potential is used in medicine and cosmetics. Natural oils are simply a condensation of strength and an elixir of beauty.
Natural oils are irreplaceable in hair care
Their tiny particles can perfectly fit into the hair structure to fix it, and at the same time beautify, without taking anything in return. If you think that "beauty requires dedication and victims" – natural oils will teach you, that beauty should not involve any side effects. This is a harmony and match: without the use of parabens, harmful alcohol and other substances, introducing chaos in hair care.
Why is Nanoil the best hair oil?
Nanoil is the only product on the cosmetic market, that mostly focuses on the needs of hair. The company has created a brilliant thing, because it has developed the most harmonious combination of natural oils, custom-made to the three types of hair. This is not just one natural oil – it is a whole army of them. Nanoil comes in three versions, and each of them conceals some high-class natural oils matched to various types of hair porosity.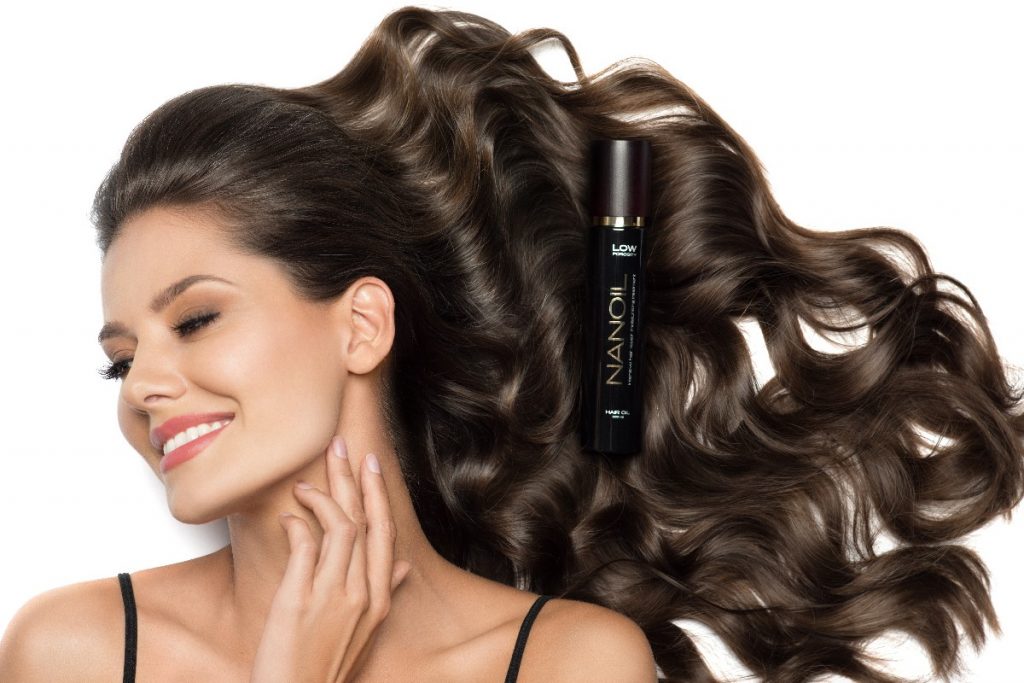 Each hair type is determined by the porosity
The porosity of hair is a term that describes the degree of how high tiny scales of keratin (which every strand of hair is cover with) are raised. These scales can overlap and strictly adhere to the hair surface (low porosity) or can be slightly raised from the stem (medium porosity), or be extremely raised, forming gaps and holes in the cuticle (high porosity).
In the discussed porosity is it worth remembering that the further the scales are parted, the more damaged the hair. With a significant deviation of keratin layers, hair looks as if it was open, like an unprotected "gateway" leading to its interior. Then, a lot of toxins and any harmful substances (including those derived from comedogenic cosmetics) are able to reach inside. Raised scales do not hold an appropriate degree of hydration for too long nor improperly selected particles aimed to nurture hair.
Nanoil – why it takes hair porosity into account?
Because the condition of the cuticle layer determines how hair behaves and looks. It is logical that also influences what you should use for its care.
Therefore, you might say that porosity decides on what your hair care will look like. Being aware of that fact, Nanoil producers have developed three versions of hair oil. Each of which is matched to various hair types – the porosities.
Nanoil hair oil – how is it matched to hair porosity?
The secret of the perfect harmony between hair porosity and natural oils is the size of the particles that dominate in particular oil. The particles can vary – depending on the content of fatty acids they comprise.
You can distinguish three sizes of particles (penetrating, semi-penetrating and non-penetrating) and three types of porosity. This allowed the Nanoil brand to create an ideal cosmetic: synergistically adjusted to your hair types and its needs.
What is included in each of the three versions of Nanoil hair oil?
Each of the three versions of Nanoil hair oil contains a set of oils that are suitable for a particular type of porosity.
Nanoil for low porosity hair comprises oils of small, penetrating particles: those will take care of thick and heavy hair that requires protection without overburdening. Low porosity hair are rather rough and coarse, that is why castor oil, cedar oil, argan oil, coconut oil, shea butter babassu oil, maracuja oil, monoi oil and cupuacu oil will provide your strands with silky softness, radiance, nourishment and moisture. They will also improve vitality, prevent graying, splitting ends as well as protect from harmful sun radiation and preserve hair colour.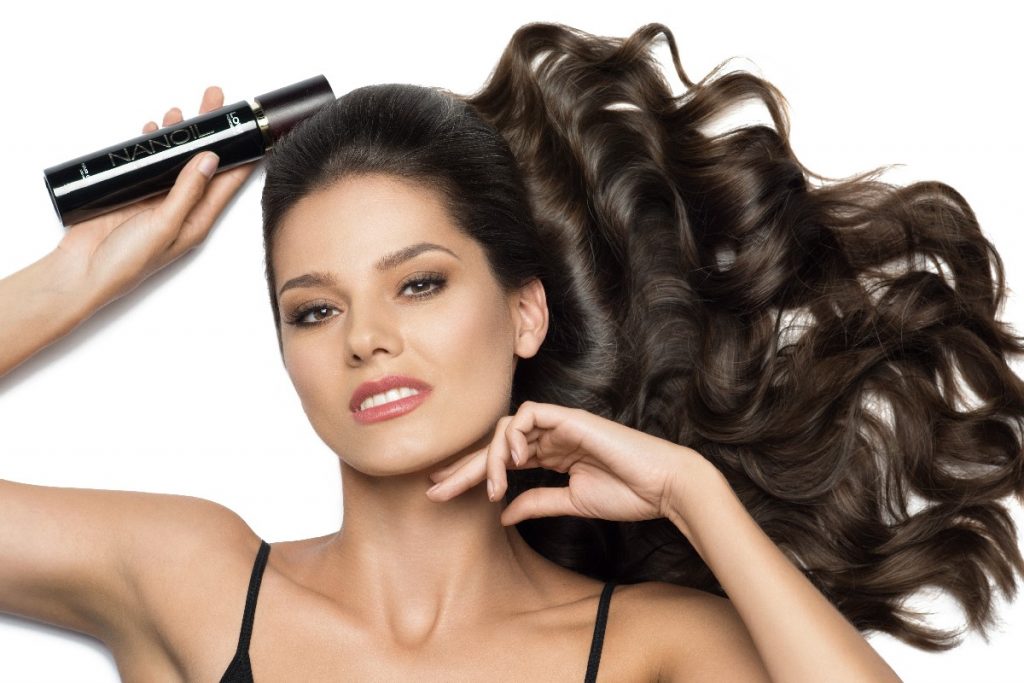 Nanoil for medium porosity hair contains semi-penetrating oils with particles that are perfectly suited for partially raised scales. Natural oils such as: macadamia oil, argan oil, marula oil, jojoba oil, maracuja oil and coconut oil will take care of this particular hair type by improving its volume, providing proper level of hydration, regulating sebum secretion, strengthening bulbs and ensuring radiance, resilience and vitality. What is more, they will also prevent frizz and static.
Nanoil for high porosity hair consists of natural oils with large, non-penetrating particles that are able to deal with gaps and holes in the cuticle. Sweet almond oil, argan oil, evening primrose oil, avocado oil, maracuja oil and cotton seed oil will moisturise and regenerate hair as well as provide a set of vitamins responsible for protecting from damages and taking care of dry scalp and bulbs.
Moreover, all three types of Nanoil hair oil include a range active substances (vitamins, keratin, panthenol, silk, lanolin, UV filter), that support the effects of natural oil and help to rebuild and nurture hair by enhancing volume, resilience and facilitating combing and styling.
Nanoil took into account every aspect concerning beauty and health of hair. For this reason, the product contains natural substances (kerastim and baicapil) which – by directly affecting the bulbs – accelerate hair growth, prevent hair loss, and even thicken it. The cosmetic forces also weak and dormant bulbs to work.
In the fight for beautiful hair, innovation and greatness of Nanoil hair oil knocks out every hair balm, mask, conditioner, all the lotions and oils with silicons and parabens, and even hair ampules.